Toni-Ann Yapp '21 aspires to help others and improve their wellbeing.
Majoring in neuroscience with a minor in African studies at Colgate, she initially thought her path would lead to medical school. But after a study abroad program in Sweden during her sophomore year and an internship with the MetroHealth System in Cleveland, Ohio the following summer, she pivoted and developed an interest in pursuing a master's in public health. The only question was, where?
Yapp homed in on nine of the nation's most competitive programs. "It was in my best interest to apply to as many of the top programs as I could to determine how each school's curriculum fit into my educational needs and future goals," she says. 
Given the costly nature of the process, she turned to the Graduate School Access Fund (GSAF).
Established in 2020 through the generosity of Giovanni '94 and Maree Cutaia, the GSAF assists students of color and/or students with demonstrated need, who seek admission to graduate and professional schools. Funds can be used to access adequate standardized test preparation materials; testing and application fees; or travel for interviews, tours, and admitted-student days.
Yapp was one of 44 students with an average grade-point average of 3.65 to receive a GSAF grant over the program's first two years. During that span, grant awardees had an average demonstrated need of 86% with 75% of recipients self-identifying as a person of color.
Accepted to eight of the nine schools to which she applied — including highly-ranked programs at Northwestern, Brown, the University of Pennsylvania, Emory, New York University, George Washington, and Tulane — it came down to a school that reminded Yapp of her Colgate experience, thanks to its reputation for academic rigor, small class size, and broad curriculum.
"I ultimately ended up choosing Yale because of their financial aid package and unique concentration on chronic disease epidemiology," says Yapp. "At Colgate, there was always a wide range of topics discussed within the curriculum. Yale is similar in that regard, and they believe in taking different kinds of courses to supplement your education, so I don't have to limit myself."
Colgate Connection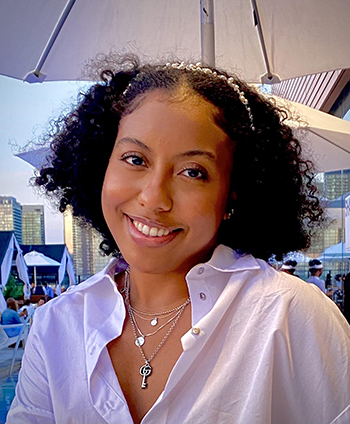 Yapp's journey from aspiring clinician to future biostatistician hasn't always been linear. Initially intending to be a mathematics major, she settled on neuroscience while pursuing a pre-med track. But she also took courses in African studies, where she began to recognize the impact countries' histories and geopolitical situations could have on population and health trends.
Yapp's interest in public health policy was cemented the summer before her junior year, thanks to an internship with the MetroHealth System of Cleveland as part of the Summer on the Cuyahoga program. She first learned of the opportunity through Colgate's career services website and later connected with Cheryl Forino Wahl '91, MetroHealth System's then-senior vice president and chief ethics and compliance officer.
Yapp worked with Wahl in the ethics and compliance department and learned about the various operations at the hospital. She had the opportunity to shadow doctors in a county jail, following MetroHealth's decision to take on healthcare operations at the correctional facility. She also engaged with various public health campaigns and observed the interplay between health, equity, and justice, as well as the role public health policy can have in improving communities.
"As someone who wants to make an impact, I saw healthcare as an industry where I could see instantaneous results," says Yapp. "But instead of helping an individual, like in clinical work, focusing on public health allows me to approach it from a macro-level where I can help entire populations."
During her first year at Yale, Yapp completed core coursework in biostatistics and epidemiology; health equity and social justice; health policy; and ethics, while also taking an elective focused on reforming healthcare systems in low-income countries. 
She is pursuing a concentration in chronic disease epidemiology with a focus on global health and maternal and child health promotion, and ultimately hopes to serve as a biostatistician within a research institution such as a university, or an organization like a pharmaceutical company that conducts clinical trial work.
"Chronic disease is such an underserved area, especially in the arena of global health," says Yapp. "Because of the immediacy of the threat, a lot of resources go toward addressing infectious diseases such as COVID, but a lot of people live very disabled lives because of chronic disease. It's important to have a cohort of professional folks focused on chronic disease to help increase prevention efforts and mitigate the effects that are already present."