Imagine the Brooklyn Bridge, towering over the East River with the cityscape of Manhattan casting its long shadow over the water. It's a shot you've undoubtedly seen on dozens of television shows and in films set in the Big Apple. But for members of this fall's New York City Study Group, there was the opportunity to see the iconic shot through a different lens — that of a 16mm Bolex camera.
"Most of them have never worked with analog media," says Mary Simonson, associate professor of film and media studies and women's studies. "But it was inspiring to see them support each other as they figured out what sort of visual stories they wanted to tell."
While watching her students shoot their City Symphony series in Brooklyn Bridge Park was a sight to behold, it was not one Simonson necessarily saw coming. She started out as a piano performance major at Rutgers University, then shifted her undergraduate focus to music history with a double major in women's studies. Today, she is the Daniel C. Benton '80 Endowed Chair in Arts, Creativity, and Innovation.
Bridging Disciplines
Particularly interested in research possibilities related to feminist musicology, Simonson earned her doctorate in critical and comparative studies of music at the University of Virginia. While exploring the intersections of gender, sexuality, and race with music and other modes of performance, she developed an interest in music's relationship with visual media.
Simonson joined the University's faculty in 2008 with a dual appointment to the film and media studies and women's studies departments, and her scholarly pursuits have grown alongside the programs she's helped develop.
"I was trained as a musicologist," says Simonson. "But Colgate has offered me the opportunity to work within and across multiple disciplines, which has taught me what it means to be a truly interdisciplinary scholar and teacher."
She has penned nearly a dozen scholarly articles and reviews on topics ranging from 19th- and 20th-century opera and dance to feminist scholarship and activism. Her first book, Body Knowledge: Performance, Intermediality, and American Entertainment at the Turn of the Twentieth Century (2013), explored the role female performers had in shaping early 20th-century arts and entertainment. 
She is now working on a new book project called Staging Cinema Performance Liveness and the Transition to Sound in American Film, which focuses on the various ways sound and voices were incorporated into silent filmmaking in the 1920s.
"The immersive media trend [we see today] was happening in the 1920s," says Simonson. "What we're seeing now 100 years later is not all that dissimilar in terms of the experience that audiences were having then, just with different kinds of technologies."
Investing in Innovation
In a darkened room, at the Undercurrent exhibit in Brooklyn, sits a set of bicycles. Pedal them fast enough and you'll begin to hear music. Pedal them long enough and you'll see a video-based hologram. Do both and you'll get a communal experience and the fusion of art, performance, and technology.
Simonson dreamed of giving her students innovative, immersive experiences like these for nearly a decade. When film and media studies transitioned from a minor to a major in 2016, a door opened to the possibility of a semester-long study group. Then, Board of Trustees member Jeffrey Sharp '89, an award-winning film and television producer and the executive director of the Gotham Film & Media Institute, agreed to host Simonson's students, helping to turn their collective vision into a reality.
"Colgate allows you to dream much bigger than most places," says Simonson. "What's unique [about this place] are the resources and investments in academic projects, programs, and faculty. It leads to curricular innovation and amazing things happening in the classroom."
The Third-Century Plan underscores Colgate's commitment to providing and enhancing those resources, in part through Third-Century Endowed Chairs, such as the honor that Simonson now holds. In addition to acknowledging and rewarding excellence in teaching and research, the University's endowed chair initiative offers awardees funds to deepen their research efforts and encourages interdisciplinary work. Endowed chair holders will also have a four-course teaching load, providing additional time for high-level scholarship. Six of the Plan's proposed 25 new endowed professorships have been added in just the past two years, bringing the number of Colgate's endowed chairs more in line with the nation's leading colleges and universities.
A named professorship is the highest academic award that the University can bestow on a faculty member, and it lasts as long as the University exists. Thus, it is both an honor to the named holder of the appointment and also an enduring tribute to the visionary donor who establishes it. Endowed chair holders receive dedicated funds to enhance their research efforts in recognition of extraordinary scholarship. Therefore, endowed chairs serve to enhance a culture of academic excellence among the faculty community.
While this fall's New York City Study Group was a much-anticipated step forward for Simonson and the film and media studies program, even bolder developments are on the horizon thanks to the Plan, which also calls for a reimagined Middle Campus and the creation of the Benton Center for Creativity and Innovation — funded through a leadership gift from the namesake of Simonson's endowed chair, Dan Benton '80.
A proposed 36,800-square-foot complex, the Benton Center will house Colgate's film and media studies, theater, dance, and computer science programs. With new maker spaces, computer and media object labs, studios, music practice rooms, performance, and exhibition spaces, there will be additional ways to experiment and collaborate.
To Simonson, schooled in following scholarship wherever it might lead, the possibilities are endless. Beyond linked courses and shared curriculum, students might have the opportunity to explore live coding for film projection and music, to develop interactive media, or to make media art that engages with wireless networking and signal propagation. Undergraduates could even learn how dancers can use movement sensors to translate their gestures into soundscapes and lighting design. In a digital world, where Simonson believes "everyone is constantly engaged digitally," physically locating in a space will help students see how closely connected the fields of art, media, and technology have become.
"What is film in a time when traditional boundaries are being exploded?" Simonson asks. "The arts are about bringing together multiple [media] forums, finding connections between them, and creating work that's not easily categorizable. Today, much of the work being made isn't strictly music, or theater, or film — it's multimedia."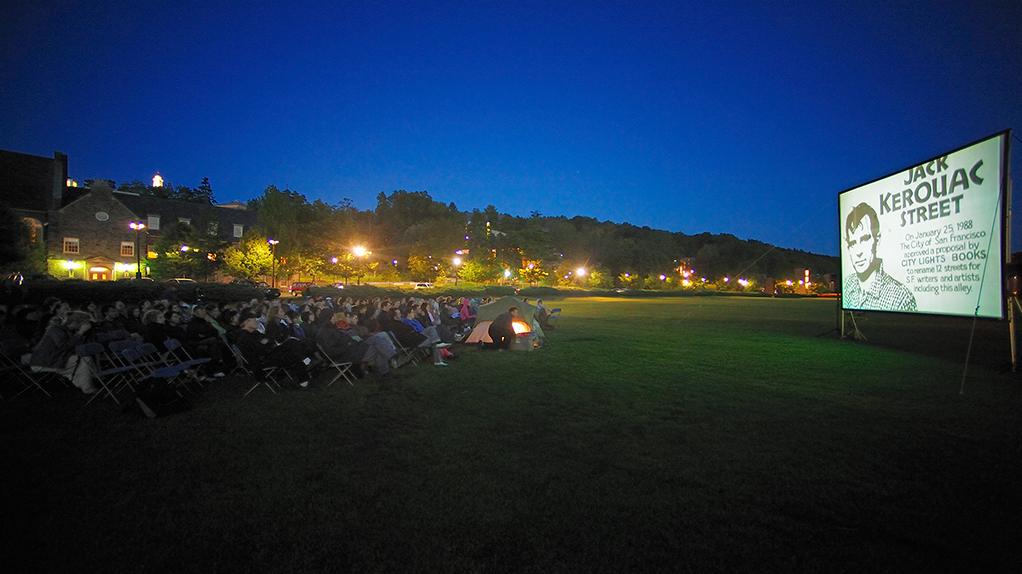 Teachable Moments, Past and Present
In addition to her new book project, Simonson recently helped edit a special issue of a journal about the Ballets Russes, a European dance company that toured the United States in 1916 and 1917. Having written a chapter of her dissertation on the ballet, it was subject matter Simonson had long engaged. What was a surprise was exactly how long.
Visiting her parents in New Jersey while on the study group's semester-long stay in New York City, Simonson picked up a handful of her old academic papers. In the stack was a piece about the Ballets Russe, but it wasn't from her days as a graduate student at Virginia. Instead, it was from a Rutgers undergraduate seminar she took as an elective on the suggestion of a friend.
"I'm at a point now where I can look back and see a somewhat linear path that led me to what I'm doing," says Simonson. "But there were so many twists and turns, I would never have recognized it at the time."
It's why Simonson sees every moment as an opportunity to teach — whether that's creating an opportunity for students to attend the New York Film Festival, helping to organize the Friday Night Film Series on campus, or exposing Brown Commons residents to live music and local artists. Given the ubiquitous nature of today's media, Simonson acknowledges that there is no longer an easy line where lecture stops and students' curiosity begins.
"Their lives are teaching opportunities. They're engaging with and having experiences with the same phenomena that we're talking about in the classroom," says Simonson. "When we are open to interdisciplinary thinking, there are all kinds of possibilities to collaboratively bring people together around shared experiences."